About Breckenridge History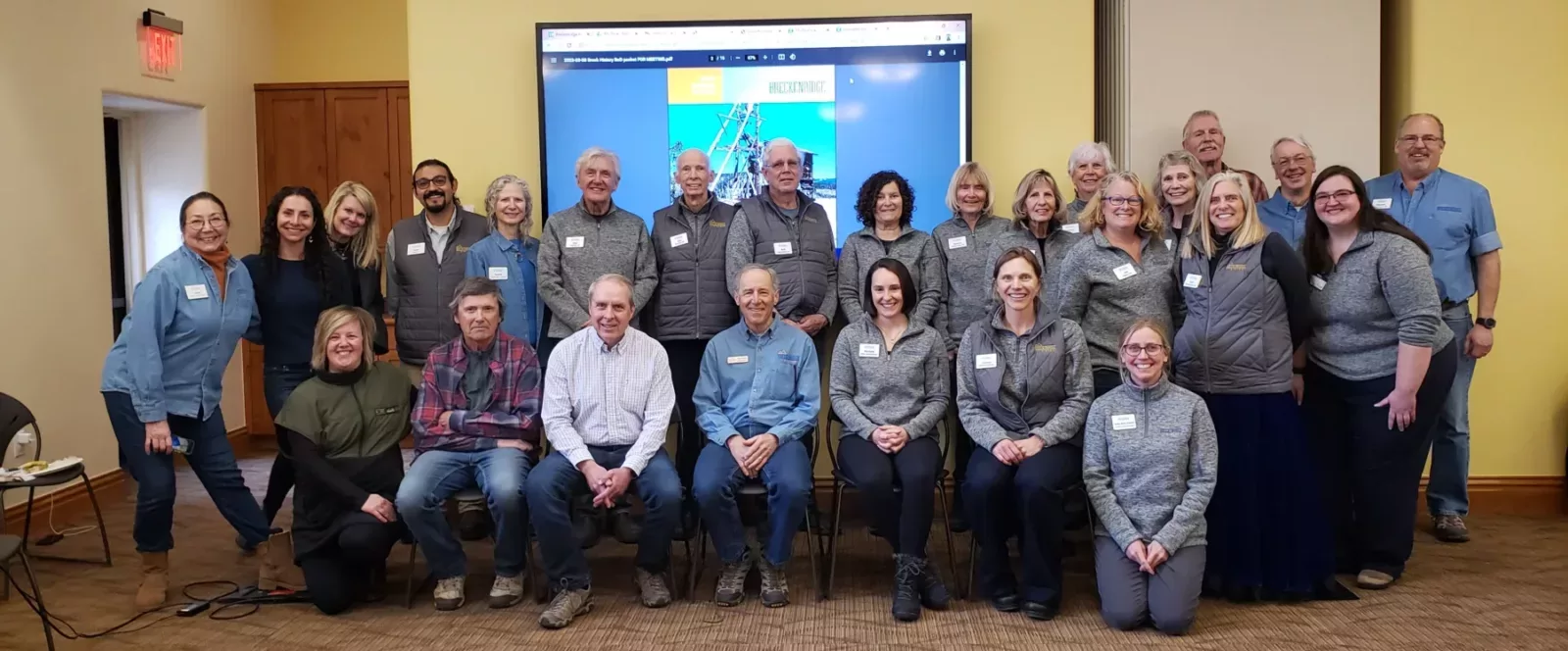 Mission
Breckenridge History enhances our community's future by discovering, preserving, and sharing our diverse and extraordinary history.
Vision
Breckenridge History is a community-supported, nationally recognized leader in local historic preservation, historical interpretation, and tourism.
Breckenridge History (originally the Breckenridge Heritage Alliance) was established in 2006 by the Town of Breckenridge to manage town historic assets, execute historic preservation projects, curate exhibits, and share the history of our community through museums, guided tours, and other public events and programs. In 2015, Breckenridge History opened its archives room to serve as both a repository of one-of-a-kind archival materials as well as a research facility. Breckenridge History has undertaken a variety of one-time capital preservation and interpretive projects, both within town limits as well as at outlying sites on Town of Breckenridge and Summit County Government open space, and in partnership with the US Forest Service. Our scope, or "area of concentration," includes the greater Breckenridge area, defined as Hoosier Pass (southern boundary) to Tiger Road/the Swan River (northern boundary), and from the Ten Mile Range (western boundary) to the Continental Divide (eastern boundary).
Administrative Staff
Board of Directors
Jerry Dziedzic, President
Peter Grosshuesch, Vice President
Larry Crispell, Secretary
Allyn Mosher, Treasurer
Rob Dollars
Johanna Gibbs
Elisabeth Lawrence
Emily Lutke
Carol Saade, Town Council Representative
Employment Opportunities
Breckenridge History is seeking confident, well-spoken, people-oriented individuals to work in our museums and lead tours. Positions include year-round part time and seasonal part-time interpreters. Depending on the location or tour, interpreters work days, weekends, and evenings and are required to wear a provided costume or uniform and name tag. Please read the History Interpreter job description for more details and complete an application form.
2022-2025 Strategic Plan
Our work will be guided by our commitment to the following values:
• We strive to be a place of belonging for all employees, volunteers and visitors.
• We treat each other with civility, dignity, and respect.
• We encourage candid communication and honor all ideas and opinions.
• We embrace accessibility and work actively to create places and programs that are free from barriers.
• We lead through best practices and innovation.
• We share diverse stories and serve audiences from a variety of backgrounds.
Breckenridge History will focus on strategies and outcomes that support the following goals:
Goal 1 – Provide innovative and inclusive programming that inspires wonder and connects people to our diverse history.
Goal 2 – Pursue the most urgent historic preservation capital needs to protect Breckenridge's treasured sites for current and future generations.
Goal 3 – Care for and increase access to our historic collections.
Goal 4 – Continue to operate as a high quality non-profit organization that is committed to industry best practices.
We acknowledge the stories of all people connected to this place: good and bad, simple and complex, inspiring and contemptible. By acknowledging the inequities of the past we strive for a more inclusive and equitable future.