Barney Ford Museum
About the Barney Ford Museum
The Barney Ford Museum is dedicated to telling Ford's story. Although born into slavery, Barney Ford escaped at age 26 and went on to forge an exciting and remarkable life. He was a keen entrepreneur and traveled far and wide to seek out business opportunities. While faced with adversity on numerous occasions, Ford fought through racism, fires and financial hardship to become one of Colorado's leading businessmen and civil rights pioneers. At age 60, Ford commissioned his stately Breckenridge home in the heart of town. The restored museum honors Ford's life and legacy.
We also invite you to take a virtual tour of the Barney Ford Museum!
Looking for something to do before the next tour starts at the Barney Ford Museum? Check out these nearby historical adventures.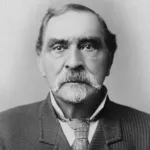 Lost Highways podcast
Executive Director Larissa O'Neil talks about Barney Ford with History Colorado in the newest Lost Highways podcast.
Barney Ford
Recent Accolades
In 2018, Barney Ford was inducted into the Colorado Tourism Hall of Fame. For more information, check out the video about this special honor.
In 2021, Rocky Mountain PBS premiered Colorado Experience: Mr. Barney Ford, an hour-long documentary about Ford's life and legacy. Learn more about the artist, Leilani Abeyta, and the artistic process she used to create the paintings in the documentary. In addition, several of her pieces are on display at the museum.
In 2022, Governor Jarod Polis, on behalf of the State of Colorado, signed a proclamation celebrating Barney Ford's legacy and pioneering efforts for civil rights during his lifetime. Colorado also kicked off Black History Month with Barney Ford Day on February 1st.
Schedule & Cost
Free hourly tours
Tuesday – Sunday
10 am-3 pm
Last tour starts at 2 pm
Free, $5 suggested donation
Parking Info
There are a few designated parking spaces at the Barney Ford Museum. Otherwise, there is street and town lot parking; please visit the Breck Park website for information on current parking locations and fees.
Schedule & Cost
Location
Parking Info