Bill Fountain's Research Tips and How-to's
October 31, 2022 | Category: Why We Collect
People frequently ask Breckenridge History for information on their family or friends who were part of historic Breckenridge. A recent acquisition by the Breckenridge History Archives of a c. 1900 photo album by Otto Westerman provides an instructive opportunity to share research tips and how-to's. Pre-eminent local historian Bill Fountain's pursuit of information on the album's owner inspired this primer for historic research in the Breckenridge area that can be used by any family.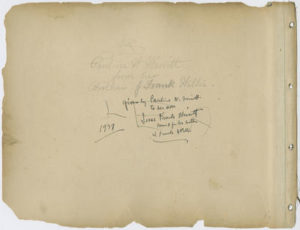 When the Breckenridge History Archives (BHA) received the donation of a leather-covered album of card-mounted photographs, chock full of historic pictures of Breckenridge, it presented a mystery. Who was J. Frank Willis, owner of the album?  Many images were well known from the camera of popular Breckenridge photographer Otto Westerman. Some had never been seen before. BHA asked Bill Fountain if he could find out more about Willis.

Bill Fountain has been researching and writing about Breckenridge history for over 30 years. His interest in local history began in 1988 when he and his wife Jeanne moved to Denver after Bill took a new position with Big O Tires. Exploring Summit County via jeep and motorcycle, Bill became fascinated with the mining structures and artifacts he observed throughout the backcountry, fueling a life-long passion for mining and Breckenridge history.  After a devastating injury from a dirt bike accident in 1992, Bill had time for archival research. He teamed up with other local historians Rich Skovlin, Maureen Nicholls, and Rick Hague to learn more.

In his explorations, Bill covered many miles of Summit County and uncovered unique artifacts, unknown mines, and interesting stories. His own story reads like an adventure novel: surviving a fall into a mine shaft, discovering the Great Flume, chance meetings with influential figures, and more. Taking his inspiration from the Biblical phrase "Seek and Ye Shall Find," Bill has used providential guidance and impeccable intuition to find and shine a light on Breckenridge history.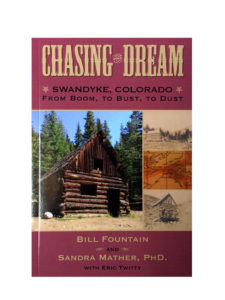 With Dr. Sandra Mather, Bill has co-authored 8 books on mining and Breckenridge history in the Chasing the Dream series. Topics include The Search for Gold in French Creek, Ben Stanley Revett's Dredge Boats, and Swandyke, From Boom to Bust to Dust. Learn more about Bill's adventures chasing Breckenridge history in the "about the author" section of his newest book: Country Boy Mine, 1881-1994.
Having a good general knowledge of local history can help the researcher identify names and places, focus attention on a specific subject or area, and get a feel for the over-all background of a place. To familiarize himself with the general history of Breckenridge and Summit County, Bill consults a wide variety of books and publications. Local resources include works by Mary Ellen Gilliland (general history), Erl Ellis (dredge boat history), Mark Fiester (Breckenridge history), Maureen Nicholls (mining history), as well as his own Chasing the Dream series co-authored with Dr. Sandra Mather.
For the larger picture of Colorado history, some of Bill's favorite resources are Frank Hall's History of the State of Colorado (four volumes), Leslie Ransome's Geology and Ore Deposits of the Breckenridge District, Colorado, Professional Paper 75, and Muriel Sibell Wolle's Stampede to Timberline.

Bill brought all of his research resources to the table when he began to look into J. Frank Willis. The first source of information on Willis was the photo album itself, a primary document with images, captions, and an inscription. Bill Fountain is well familiar with known photos of Breckenridge, having amassed a personal collection of over 3,500 digital historic images. Examining the album, Bill realized it contained views of Breckenridge that he had never seen before. A true treasure trove!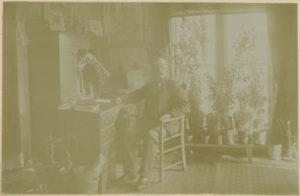 Bill knew that Otto Westerman photographed scenes and people of the Breckenridge area from the 1880s until his death in 1920. Many of Breckenridge's iconic historic images are thanks to Westerman's efforts. A client visiting Westerman's studio could put together an album of favorite pictures as well as photographs commissioned by that individual. Such was the case with J. Frank Willis.

In addition to many familiar images of Breckenridge, Frisco and the surrounding area, Bill discovered that Willis' album contained previously unknown images including Willis seated in his home and views of Breckenridge from his mining claim on Gibson Hill. Thanks to photo captions, Bill was able to locate and research Willis' mining claim, the Alice A.

Mining claim information is available from the Bureau of Land Management at the Federal Center in Lakewood. Resources available from the BLM can reveal the Mineral Survey, plat maps, surveyor's notes, and ownership information. Some BLM resources are available on-line. Other research may require a visit to the office. Mining claim information may also be found in the records of the Summit County Clerk.

Many physical sites offer Colorado historic resources including History Colorado, the Denver Public Library Western History Collection, Colorado School of Mines' Arthur Lakes Library, and the Colorado State Archives. Colorado Inmate Records are available on-line. Other on-line sources for photos and documents include sales and auction sites like Ebay. For an in-person visit to DPL's Western History Collection, Bill recommends bringing a flash drive to directly upload images and documents.

Local information can be discovered at the Breckenridge History Archives and the Summit Historical Society Archives (both by appointment only), Breckenridge Valley Brook Cemetery records, and Summit County Government offices such as the Library, Clerk and Recorder, and Assessor.

Willis' photo album contained an inscription: "For Pauline W. Merritt from her brother J. Frank Willis." This clue directed Bill to census data, an invaluable resource for any family researcher. From the census, Bill was able to learn about Willis' vital statistics, where and when he was born, information about his parents and siblings, and where he lived.  Colorado census data is available from the Colorado State Archives. One of the best sources for U.S. census data is Ancestry.com, a subscription service that allows some free search options.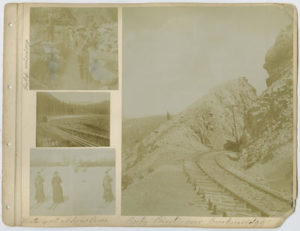 Photographs, whether historic or modern, provide a wealth of information. One of Bill's top research tips is to always carry a digital camera. Bill has several: in his car, at his side, and a spare just in case. With the high resolution of a digital camera, Bill can capture details in old photos, historic documents, artifacts, museum displays, and other records that evade the low-resolution captures of a phone-camera.

For family researchers, a digital camera might be one of your best investments. Bill's other photography tips include: use natural light whenever possible, avoid use of flash, and take detail shots as well as over-all images, especially with maps and large documents.

Bill has become adept at Photoshop, a photo manipulation software that allows him to sharpen images, lighten or darken old photos, and bring out details that may be missed by the naked eye. Photoshop also allows Bill to interpret and transcribe historic documents, particularly those with faded handwriting. Reading old script can be difficult. If Bill finds an indecipherable section, he'll trace the words to get a feel for how the person made certain letters, often allowing old writing to be readable again.
To fill in the life details and personality of J. Frank Willis, Bill turned to the historic newspaper record. With modern technology, many old newspapers have been digitized, making on-line research relatively easy.

The best sources for research on the every-day lives of families and individuals in the Breckenridge area comes from the Montezuma Mill Run, the Breckenridge Bulletin, and the Summit County Journal. These newspapers can be found on the free-to-access Colorado Historic Newspapers website. The Summit County South Branch Library also has many historic local newspapers on microfiche that are not available on the digitized website. These require manual search.

In the newspaper collections, Bill suggests running searches specific to Summit County newspapers, as well as on the entire database. Often newspapers would share stories about neighboring communities, providing information that the local paper might miss. Another tip is to use various iterations of the person's name when searching. Entering "Willis" will turn up everyone with that name. Try J. Frank Willis, J.F. Willis, Frank Willis, and John Frank Willis for specific results. If your ancestor has a name that is often shortened, like "Bob" for "Robert," try searches with both names.

Bill also recommends standard on-line research using your favorite search engine. Sometimes the best clues are buried on page 4 or 5. Bill recommends going deep into the search results. 
Thanks to Bill's newspaper research, we know that Willis started mining in the Montezuma area in 1879. In 1883, he was charged by his employer with grand larceny, which was dismissed. Willis then moved to the Breckenridge area. He was an eccentric who preferred his own company and rarely spent time in town. Willis never married and had no children. In 1900, he spent the winter with family in New York. Willis died at age 48 in 1903 of a heart attack while climbing the hill to his Alice A claim. Willis was typical of the many miners who came to the Breckenridge area to make his fortune. He was a regular guy of the times.

Ordinary people make history every day. Willis' commission of a photo album souvenir for his sister Pauline created an historic record relevant to us today. Thanks to Bill Fountain's research, we know about Willis' mining history in our community, the location of his mine on Gibson Hill overlooking Breckenridge, and the sad circumstances of his death. Thanks to Willis, we have the gift of new-to-us historic images, never seen before, of our community. And we thank Willis' descendants for donating that album to the Archives for all to enjoy. Perhaps your ancestor created history in Breckenridge as well.
written by Leigh Girvin