Making History Accessible to All
October 27, 2022 | Category: Why We Collect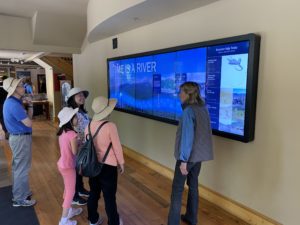 History belongs to everyone. Making Breckenridge's historic sites accessible is a top priority for Breckenridge History. From physical access to accommodations for hearing and sight impairments, learn more about the ways that Breckenridge History brings our community's stories to all.
Virtual and augmented reality means that museum-goers don't even have to be in Breckenridge to visit many of our historic sites.  With the launch of Breckenridge History's 1888 App, many top historic destinations are available to view from anywhere. With the app, take a virtual tour of some of Breckenridge's popular mining sites like the Wellington Mine and Mill or Lincoln City. Visit the historic narrow-gauge railroad at Rocky Point. And step into the Edwin Carter Discovery Museum. All from the comfort of your own home.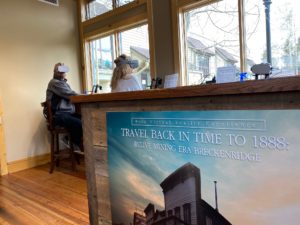 Augmented reality brings 1888 Breckenridge to life at the 1888 App or utilizing the Google Occuli at the Welcome Center Museum. Images of dusty streets, buildings with peeling paint and sounds of horses clomping by make it easy to put yourself in the time of Breckenridge's gold boom.  Sound effects and narration animate the scenes for those with visual impairments.

Another option for a virtual tour is the new guided video of the Barney Ford Museum. Learn more about Ford, an entrepreneur of the gold era who began life enslaved in the South before making his way West to Breckenridge, building a fortune in the hospitality business. The handsome Victorian-era home he built on Washington Avenue can be visited in person or virtually.  For visually impaired guests, the video tour offers audio information about Ford and his home.

Visitors to the Barney Ford Museum will find few barriers to access.  Parking in the rear of the museum off the alley provides a clear path of travel to the museum's back entrance. One ramped doorway within the museum may be steeper than the standard. Please feel free to ask the interpreter on duty if assistance is needed.
Breckenridge's busiest museum, the Welcome Center Museum, offers a primer on Breckenridge history and accessible technology to bring stories to everyone. The rear entry to the building provides a no-step threshold, delivering guests right to the Breckenridge 1888 oculi and the video room with a wide variety of stories. The main level museum focuses on Breckenridge's founding stories. Upstairs, accessible via elevator, learn about Breckenridge's modern history as a ski town featuring a special exhibit of 60 years in 60 artifacts.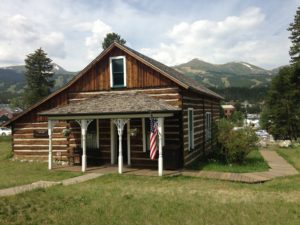 At the Edwin Carter Museum, visitors can learn about this miner turned conservationist. Carter's 1875-built log cabin does not offer wide doorways for wheelchair access, though many mobility devices may still fit through the 31" opening of the front door. By parking in the rear and taking the boardwalk to the front entrance, visitors enjoy a clear path to the museum. Once inside, there is ample room to move about. Video displays and tactile artifacts allow those with visual impairments to experience Carter's unique story.

Three outdoor historic sites comfortably accommodate mobility access with wide gravel paths and minimal grades. The Highline Railroad Park on Boreas Pass Road preserves Engine Number 9, which hauled the narrow-gauge train over Boreas Pass, connecting Breckenridge with the world. The park also features a rotary snowplow, illustrating how the vital railway kept running in the winter.  The Breckenridge Sawmill Museum further up Boreas Pass Road offers handicap parking and plenty of room to move about the displays. There, visitors can learn about the valuable contributions that sawmills made to the development of frontier towns.  At the Washington Mine and Milling Exhibit, a succession of milling equipment can be toured along a gentle gravel path. The most complete milling exhibit in the state provides visitors with a thorough understanding of the process of getting gold out of rock.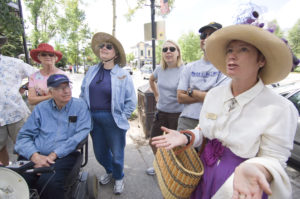 On Breckenridge History's walking tours of downtown Breckenridge, guests with different abilities are welcome. Whether the Walk Through History tour or the Bawdy Breckenridge tour, the path follows well-traveled sidewalks and streets in town complete with curb cuts and cross walks.  All sidewalks climb the hill from Main Street to Ridge and Harris Streets with grades under 10 degrees.

Another way that Breckenridge History honors accessibility is through language. Because words have power, you will hear interpreters at our sites — and at Barney Ford Museum in particular — use terms that may be new. To honor the person instead of the condition of bondage, we use "enslaved woman" or "enslaved person," instead of the noun "slave."  Similarly, no longer do we use "master" but instead "enslaver."

Language translation is also available by clicking through on the QR codes provided by Breckenridge History on many interpretive signs. Spanish-language speakers will find opportunities to learn more about Breckenridge's history.

Within the Town of Breckenridge, the community strives for inclusiveness. Learn more about adaptive activities in Breckenridge from the Breckenridge Tourism Office. For specific adaptive programs, visit the Breckenridge Outdoor Education Center (BOEC).

While Breckenridge History strives to comply with the Americans With Disabilities Act, the historic nature of many of our facilities means that some sites are more accessible than others.  If you or someone in your group needs assistance related to a disability or questions about accessibility, please contact Breckenridge History ahead of time. We can help with specific information about accessible parking, options for visiting our museums and historic sites, and other advice.
written by Leigh Girvin